Irrespective of you run your business on WordPress or just a simple blog, a feedback system brings in the much needed professional feel to your site.
Usernoise, a superb WordPress feedback plugin which offers you really easy and attractive feedback system to receive praises, feedback and questions from your visitors.
Why Usernoise?
Contact forms are an integral part of any website, because if you don't give your users to reach out to you and submit their feedback, your online business is incomplete.
Usernoise is one of the most popular WordPress feedback system, tried and tested. Unlike other contact form plugins, Usernoise is not hosted on a page, once you activate the plugin it will stick to left hand side of your page (as per your settings) and when a user clicks on the link the page fades with the feedback form popping up in the centre, which looks really professional.
Another beauty of Usernoise is, it is spam protected because the bots can't see its form.
So, if you don't have a contact form on your WordPress site yet, get this superb plugin installed on your site today.
Usernoise works perfectly on IE7+, Firefox, Chrome, Safari, Opera, Safari on iPad, you also have the option to deactivate the Usernoise system on mobile phones.
How to Use Usernoise?
Once you install and activate the plugin, you will get the option for Usernoise on your WordPress admin page, go to settings > General option and click to enable Usernoise.
You also have the option to select if you want to auto approve feedback or you want to check it before publishing.
The second tab (Button) gives you the option to change the position as well as look and feel of the contact button, the third tab that is from gives you more options to play around with your feedback form.
[symple_box style="boxinfo"]
Usernoise Pro- Features
[/symple_box]
The pro version of Usernoise plugin comes for $10, which brings in many useful features to your feedback form.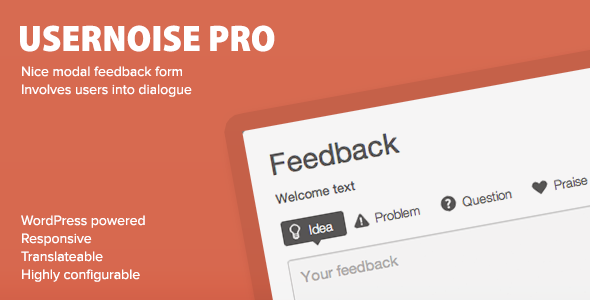 Adds a modal feedback window with item discussions. No coding required.
Sexy and responsive design with a number of typographic presets.
Highest level of theme compatibility possible.
Editable feedback categories with 4 built-in caregories.
Feedback statuses, like "New", "In progress", "Rejected".
Feedback form can be shown on the page.
Non-WordPress site support. Usernoise can be used for non-wordpress sites by installing WP into a subfolder and copying a couple of lines of code from the admin area.
Auto-updates supported
New in 2.0 100% compatible with any theme.
Stores comprehensive WordPress and HTTP debug info along with the feedback gathered. Two debug levels available.
Multisite-compatible
RTL supported
You can reply to feedback right from email client when receiving the notification.
Bring in Feedback System to Your WordPress Site With Usernoise