With great support from WooCommerce and WordPress, we see a lot of new eCommerce sites coming up on WordPress platform. The most important reason why businesses are choosing WordPress is because of the simplicity of the platform.
In this collection we will showcase some of the best WordPress eCommerce themes based on WooCommerce, so if you are looking forward to create your own online business, grab any of these best WordPress WooCommerce themes and get started.
[symple_box style="boxinfo"]
List of Best WordPress WooCommerce Themes
[/symple_box]
Jumbo
Jumbo a New Multi Purpose WordPress WooCommerce Theme from obox-design is a minimal but a great theme with huge potential.
Jumbo Multi Purpose WooCommerce Theme has everything from eCommerce to business to portfolio functionality.
SnapShop
If you are looking for a multipurpose WooCommerce theme which is modern and feature packed, your search ends here, Tokokoo has recently launched a multipurpose WooCommerce theme called SnapShop which is perfect for your requirement.
Paragon
Paragon is one of the best multi-purpose responsive & retina ready WordPress WooCommerce themes with tons of features and elements to help you build your website in minutes.
Startup
One of the most beautiful BootStrap based WordPress WooCommerce themes, Startup is a great option if you want to start an eCommerce site on WordPress.
This Powerful WordPress theme is a ultra responsive theme for WordPress that you can do absolutely anything you want
Hadron
Another amazing WordPress WooCommerce themes, Hadron is a Bootstrap based, retina ready WordPress themes which can be used for any niche you want to as this theme is really easy to customize.
Patricia
A very simple and beautiful WordPress WooCommerce themes, Patricia gives your online business a very professional look and feel.
The Theme is built with Visual Composer with a lot of new options and drop-n-resizable blocks, showing the page loader.
Pinshop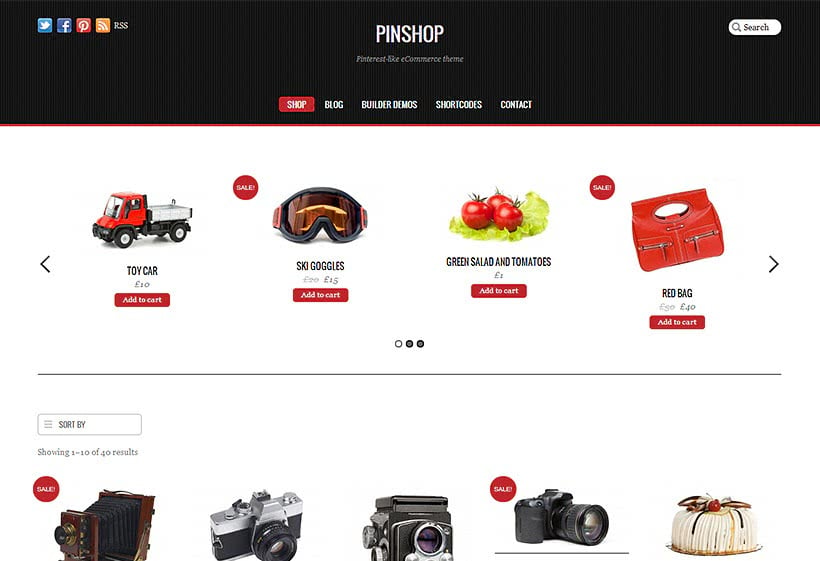 Pinshop is one of the most popular WordPress WooCommerce themes which is inspired by Pinterest. The products load infinitely as you scroll down the page. Not only does it look fantastic, but it also provides a great user experience.
All your products are displayed nicely in stacking order. When the page is resized, it automatically re-positions the products.
Lingerie WooCommerce Theme:
A beautiful retro-styled WordPress theme packed with the latest features you need to run an online store, Lingerie, works well with WooCommerce to allow you manage the store and customers' order with ease.
Hudson
Hudson is a Premium eCommerce WordPress Theme with minimalist, modern, clean design and a complete set of eCommerce features to help you easily manage your online store.
It works perfectly with WooCommerce plugin making it one of the most beautiful WordPress WooCommerce themes.
Musikoo WooCommerce Theme
Musikoo is a multipurpose theme specially designed for musicians and bands official website with unique thumbnail resembles a compact disk.
And with the support of WooCommerce plugin Musikoo becomes one of the best WordPress WooCommerce themes, selling your awesome musical works through the website is easier than before.
Elgrande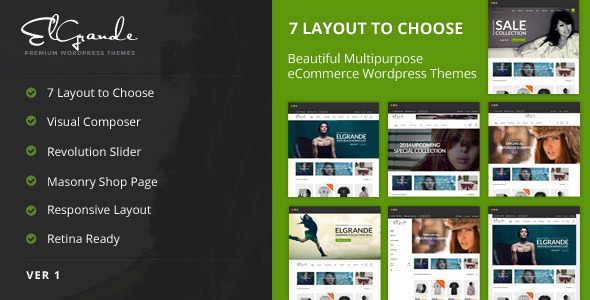 Elgrande is an E-Commerce WordPress theme based on wooCommerce which has 7 different layouts that you can use for your eCommerce websites or corporate.
Elgrande is one of the most beautiful WordPress wooCommerce themes which is perfect for your online business.
WooCommerce Supermarket Theme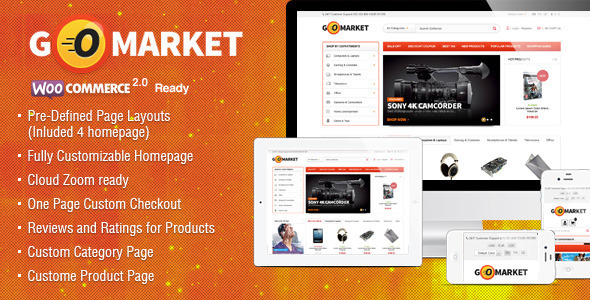 WordPress Woocommerce GoMarket, a truly light-weighted solution for all electronic / digital suppliers. It has such a neat and clean layout to emphasize massive product details without making it messy and annoying to all visitors.
Besides, modern design plus eye-catchy visual effects impress visitors at the first sight.
Boxieshop
Boxie is a multipurpose WooCommerce theme applying colors that is believed will encourage people to shop – orange, blue and green – in a beautiful design and layout with several useful page templates to give you more options in customization.
Blaszok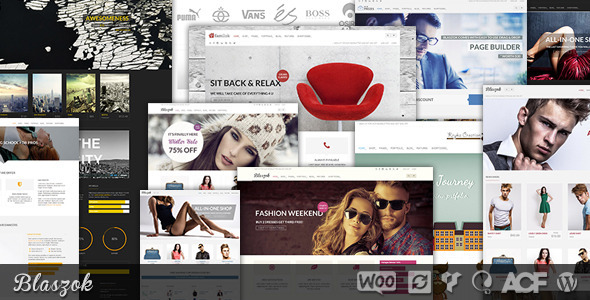 Create your own online store with this great theme in a minute, one of the best WordPress WooCommerce themes, Blaszok gives you lot of options to make a great online store.
Sabak WooCommerce Theme
Sabak is a dynamic and crisp WooCommerce theme designed with awesome multipurpose features. With 3 mode options available, you could choose Shop to run an eCommerce site.
Mommerce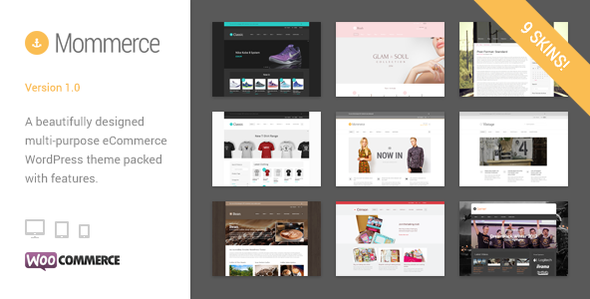 A true eCommerce theme with lots of designs and options to choose from, a retina ready, fully responsive WordPress WooCommerce theme to make your online store stand out.
Terserah WooCommerce Theme
Terserah is a colorful theme specifically designed to bring mall-shopping experience for your online store customers – without leaving their desk. What makes people tend to shop more in malls? A great looking and one of the best WordPress eCommerce Themes.
UberStore
UberStore is a stunning responsive theme inspired by modern eCommerce designs in mind. Definitely one of the best WordPress wooCommerce themes.
BajiGoor WooCommerce Theme
BajiGoor is specially built for your online Kids Apparel store with warm and cheerful color as if entering a baby and kids shop. Designed with appealing features like Facebook integration and large homepage slider. An amaizing and one of the best WordPress eCommerce Themes.
Teeshirt WooCommerce Theme
TeeShirt is a clean and simple theme with large photo slider to put your featured products in your customer's first glance. 3 homepage banners are available to publicize your shop deals, latest trend and your upcoming event, or direct your customers to certain pages or blog posts
Sport
A great looking retina ready, fully responsive WordPress WooCommerce theme, Sport is a beautiful design to make an outstanding online store.
Balita WooCommerce Theme
One of the most popular WordPress eCommerce Themes, Balita is a colorful WooCommerce theme special for baby and kids online store.
Just like you enter a brick-and-mortar baby shop with cheerful color and cute decoration.
Futura
Built from the ground up as a responsive theme, Futura will automatically adapt its design to look great no matter what screen size or device is being used to view your website.
Futura is definately one of the best WordPress WooCommerce themes
Ikonik Lite WooCommerce Themes
iKonik WooCommerce Themes is the new version of iKonik free eCommerce Themes, designed to sell and promote your graphic design such as vectors, icons, logos, buttons, and other graphic stuffs.
Shirtbox WooCommerce Theme
ShirtBox is a multipurpose WooCommerce theme with unique square look applying the latest flat-design style trend. It's perfect either for ecommerce site, online boutique or creative business website. With Responsive feature
[symple_box style="boxinfo"]
Also Read: 40+ Best Genesis Child Themes
[/symple_box]
25+ Best WordPress WooCommerce Themes for Your Online Store