If you have followed WPZoom's  themes, the Tribune theme is one of their old and very popular themes and they consider it as one of their best theme so far.
However, with emerging responsive designs making it really tough for old non-responsive designs to survive leaving only two options, update it to a responsive version or retire.
Tribune theme was released more than 3 years ago, and as things evolve day by day in web industry, we decided that it will be a shame to retire such a beautiful theme, so instead we updated it with all the needed features which would allow it to compete with other modern themes.
WPZoom decided to make their best Tribune theme responsive instead of retiring it altogether. so, what's new in the current version of the theme?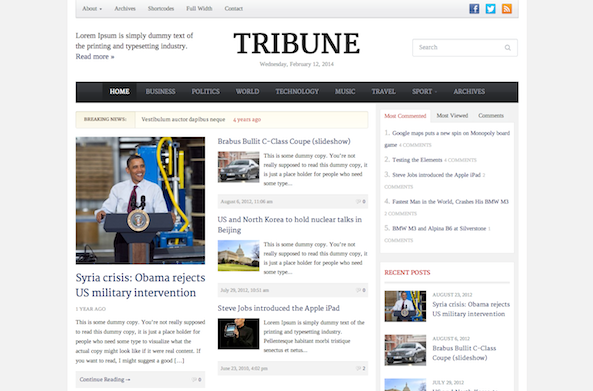 Responsive Design
As already mentioned, Tribune theme is responsive now, that means now your website created with Tribune theme will look great in any device be it desktop, laptop or a mobile phone.
Refreshed Design
The overall design of the theme is not changed but the team has done lot of work in organizing every small elements of the theme perfectly.
The header area is now much better organized, and on the left hand of the logo an ad slot is available, but you can also use it to insert any HTML code you want, like you see it in the demo version.
Improved Breaking News bar
The new version includes a more complex breaking news ticker which now displays selective posts that you can mark individually to appear there.
For more updates on this new improved theme, or for any other theme from WPZoom's store, visit the link below.
WPZoom's Tribune Theme is Responsive Now