Continuing the process to bring in additional functionality and upgrades to existing dashboard, ManageWP recently introduced a new dashboard widget called Quick Access.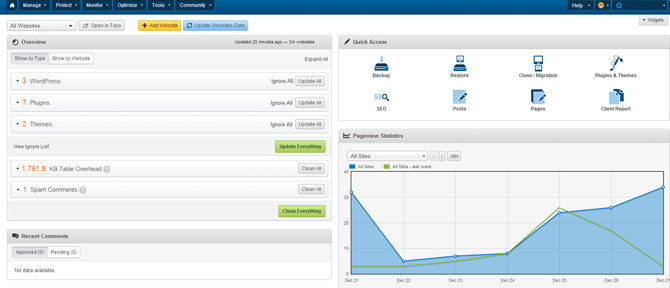 If you are new to ManageWP, some background for your reference:
ManageWP is the world's first and leading WordPress management solution designed for WordPress that gives you complete control in managing any number of WordPress sites with powerful management, monitoring, backup, deployment, publishing and security features.
In simple word, if your WP site is managed by ManageWP you can relax & focus on important tasks related to your product or services.
Coming back to the topic, let us check what's new..
The new widget gives you quick access to several important widgets which you need to use quite often.
ManageWP Quick Access Widget

quick access widget has 8 icons that link to some of the important tools of ManageWP dashboard.
Quick Access Widget Links to the following modules
SEO
Posts
Pages
Clone & migration
Plugins & Themes
Site backup
Restore tools
Reports
What's In The Pipeline?
You can expect a few more useful widgets in the near future from the ManageWP team related for some important functions listed below
Widgets for Security tools
Widgets for Performance tools
You can find more details about the story here
Image courtesy & Article Via : ManageWP.Com
ManageWP Introduces New Dashboard Widget