Ask any WordPress user about their experience and they will tell you what a great tool WordPress is to work with! If you too belong to this satisfied fraternity of WordPress users, below we have a treat for you.
Check out the rich and varied collection of 45 top premium WordPress themes displayed underneath. Here you will find all kinds of themes that are sure to fire you site with the right degree of functionality and finesse.
To start with, we have the multipurpose and multifunctional "Monospace" which is suitable for numerous kinds of sites and blogs. This is followed by lots of stylish and modern themes ranging from "Pinstagram" to "Splash" that have been crafted to take care of different genres such as magazine, news, portfolio, etc.
What is most exciting about these top class premium WordPress themes is that they offer the best service in their respective niche. So, whether you are a fashion blogger or an online store, you will find your pick.
Want to go ahead? Just browse through the gallery and take a look at the short descriptions. Download the theme and take a demo for yourself. You will definitely love the ease and elegance with which each delivers. Good luck.
[symple_box style="boxinfo"]
List of Premium WordPress Themes
[/symple_box]
Splash
Splash is a fully responsive HTML5 WordPress theme that integrates review blogging and maximizes content impact. Splash is undoubtedly one of the best premium WordPress themes available currently
Heal Church
Clean and Minimal Church theme with feature rich admin panel to quickly install the theme over existing website or fresh installation. Theme comes with wide and unique boxed layout with subtle patterns, both fully responsive and optimized for all kind of devices and major browsers.
Pinstagram
Pinstagram is a Pinterest-inspired WordPress theme that features the trademark grid layout with multiple post sizes and long list of posts. Capture the magic of Pinterest and maximize your pageviews with a layout users are familiar with.
ButterBelly
ButterBelly is a clean, elegant and fully responsive WordPress Theme (try resizing your browser), suited for business websites, corporate sites, and users who want to showcase their work on a neat portfolio site.
Paradigm
Paradigm is a rich infusion of elegant, transparent visuals with a contemporary design frame, to create a subtle but invigorating site experience. The dynamically changing, transparent to opaque, fixed header, adds visual depth without compromising on functionality.
Display
Display is a Creative WordPress Theme with clean, modern, responsive design and a wide set of features powered by our latest version of Tesla Framework. It is packed with some great features and components.
Another superb premium WordPress themes to create a good looking site.
Nexus
Nexus is a versatile magazine theme packed full of custom widgets and content modules that give you control over your page. The challenge of any magazine theme is to take massive amounts of content and present it to the reader in a clear and structured manner.
Leonardo
Leonardo Theme is a modern theme with a classic two-columns, responsive layout.
With 15 built-in color styles and easy customization options, this theme is a great choice for any hotel website.
Pump
Pump is a Wedding Event & Multi-purpose WordPress Theme. It's super simple. It has a responsive design meaning your content will be displayed beautifully on all mobile devices.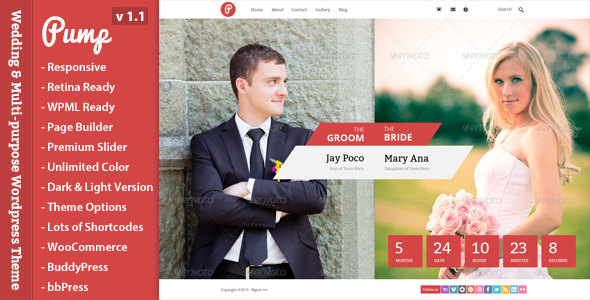 Delayed
Delayed is a minimal responsive blog theme that puts a clear focus on what matters most… your content. As Delayed is based on FrameShift you have a powerful backbone to tailor things to your needs.
Classique
The Classique theme is a clean and elegant WordPress theme which makes use of whitespace and typographical elements to showcase your work and message in a clear, concise manner.
Classique is one of the best premium WordPress themes, designed to be minimal with lots of white space to let the design elements breath.
Baylie
Baylie is a multipurpose agency theme with a full screen parallax slideshow, perfect for making a bold impact with big and beautiful images.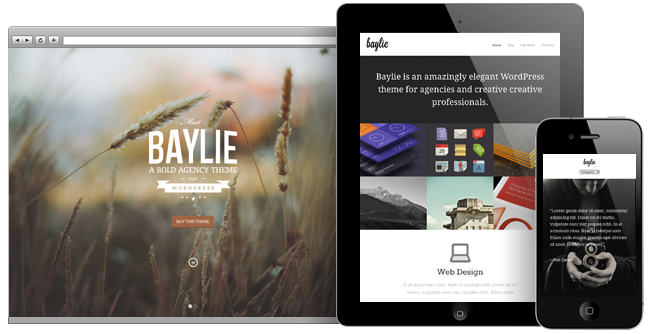 Olympic
Olympic consists of 25% protein, 75% WordPress and 100% awesomeness. Bulk up your business's website with the Arnold of themes.
Magazine
Magazine is a 3-column theme designed to be used with the Themify Builder. Using the intuitive drag and drop capability of the Builder, the Magazine theme allows you to build any kind of layouts at ease.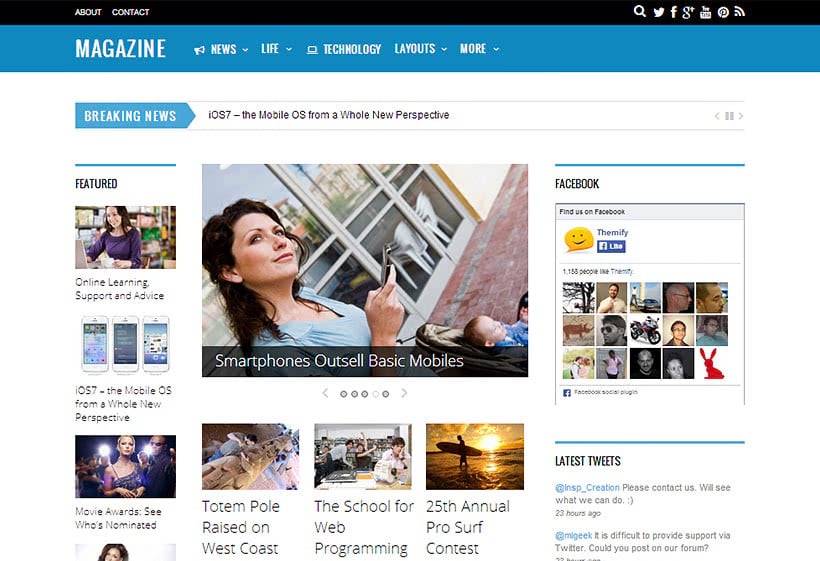 Startpoint
StartPoint is an elegant One Page Business theme composed of many modern features. It gives you the opportunity to get rid off from the boring appearance of your business website and enthrall your customers with an amazing outlook.
Flores
Flores is a beautiful responsive theme that has unlimited homepage styles and bannery system, in which you can add images, text, videos or any other type of HTML code.
Beatheaven
A responsive music WordPress theme for artists or event planners that want to stand out in front of the competition.
Natural
Natural theme features a fresh, earthy design that manages to be soulful yet professional at the same time. The theme is constructed from our Seed framework – featuring a responsive grid, retina optimization, a variety of page templates and shortcodes.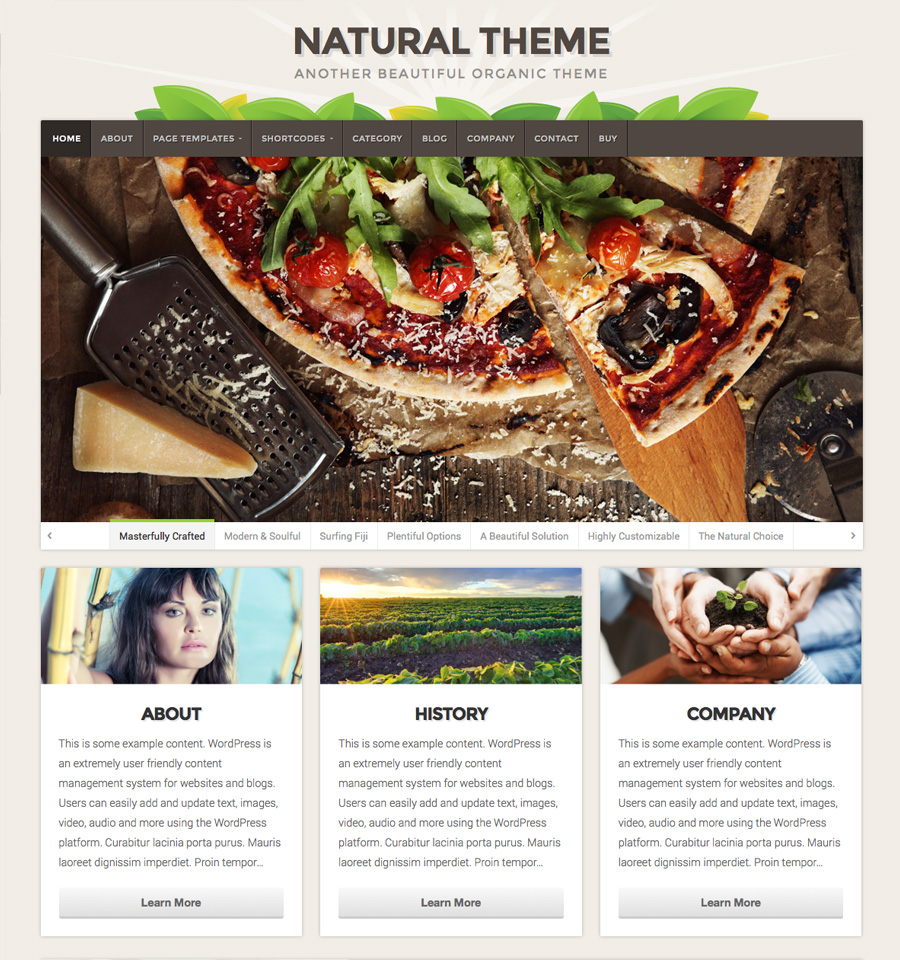 Hayden
Hayden is a beautiful agency theme designed for those that need a way to show off their portfolio, highlight their services, and have an overall stunning web presence.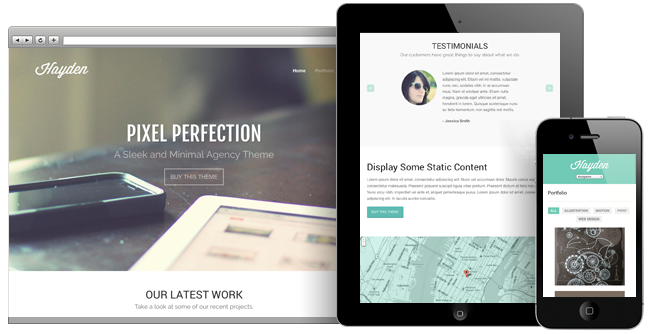 Energy
Energy is a business theme that would work great with gyms, fitness centers, sporting venues and other businesses that want to impress with full-screen photography on their websites.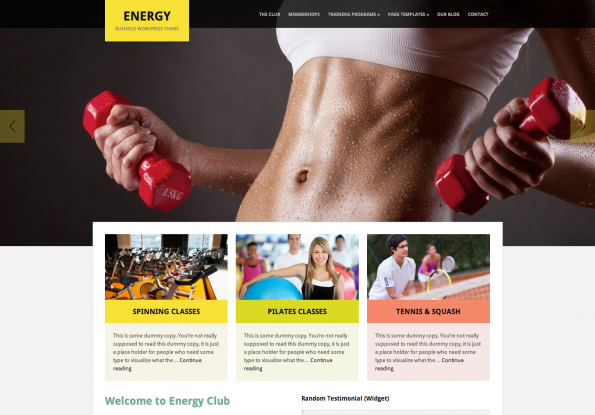 Adventure
Adventure theme features a full width featured slideshow for showcasing you're most important articles. It includes a biography section for your social media links and information about you or your company.
The Writer
A minimal writing theme, built for aspiring writers, authors and columnists – nothing else. We have made sure that your long form articles are packaged in an easy to read layout which is customizable and mobile friendly.
Sonata
Sonata is an elegant & super-clean WordPress theme for corporate, agency, business, personal and organizations. Sonata not only has an eye-catching design with all modern standards.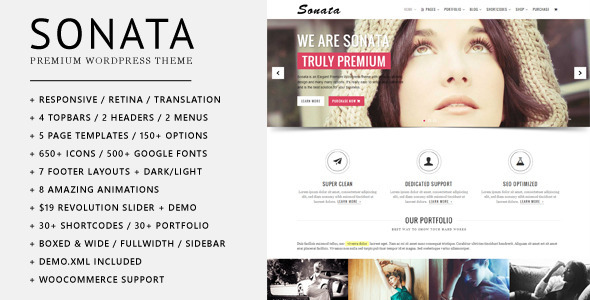 Blogly
Blogly is a flat design styled WordPress theme for personal blogs which is clean and light and makes use of post formats.
CharityPlus
As the name says, this WordPress theme is a great choice for your charity / non-profit organization. Some of the most important functionalities this theme has are: Events, Causes, Gallery, Latest news.
iCook
iCook is a Food/Recipe WordPress Theme with clean, responsive design and some nice features specially created for your cuisine related site. It includes a beautiful recipe gallery with filter; to categorize and showcase your recipes, custom shortcodes for recipes
Immunity
Immunity is a multipurpose Responsive WordPress theme that includes Magazine & Blog layouts, Post formats, WooCommerce integration, Custom Widgets, ShortCodes and tons of features.
Immunity is one of the fastest premium WordPress themes, grab it now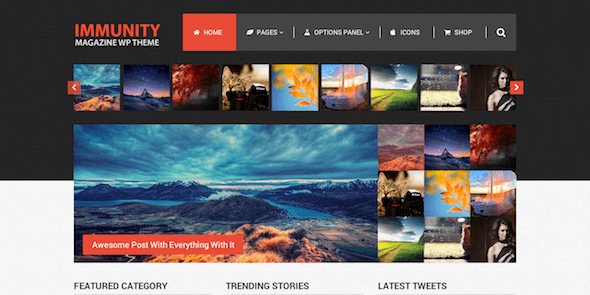 Acacia
Acacia is a beautifully constructed style with a sectional design. Sections of focus have individual patterns and backgrounds, with every area having separate full width background colors, as configurable in the theme settings.
Harrington
The theme is extremely beautiful and alluring. It is meant to give a true appeal to your business in front of your audience. The theme has got interesting elements to engage your audience.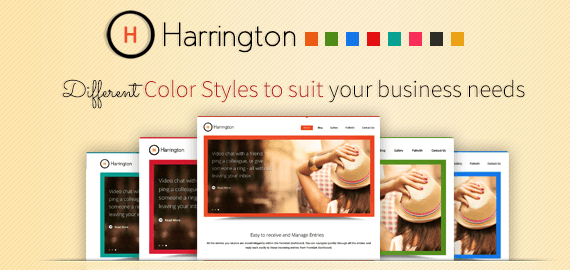 Santorini Resort
Santorini Resort is responsive and retina ready. Serve the best experience to your mobile visitors. Integrate your favorite booking system or let your visitor get in touch with our booking form.
The Stylist
TheStylist is a Beauty WordPress Blogging theme created specially for makeup blogs, hair blogs, fashion websites & general feminine blogs. Every element of this theme is well crafted and makes your site look professional website.
One of the most beautiful premium WordPress themes, grab it now and create a great site.
Immensely
Immensely is a clean, super flexible and fully responsive WordPress Theme, suited for all types of business websites. It comes with a tons of options so you can modify layout, styling and colors. You will be able to use this powerful features to build a beautiful websites.
Allegro
This theme offers everything you need for blogging. You will be able to create your own homepage by dragging and dropping blocks. This theme is easily adjustable to other languages by using PoEdit programme which is available free.
One of the super cool premium WordPress themes, get it today
Collective
Collective theme features a wide layout with a sleek and modern design. A custom post type for team members is included within the theme. Each member can write a biography, highlight their position, share social media links and display their own Twitter feed.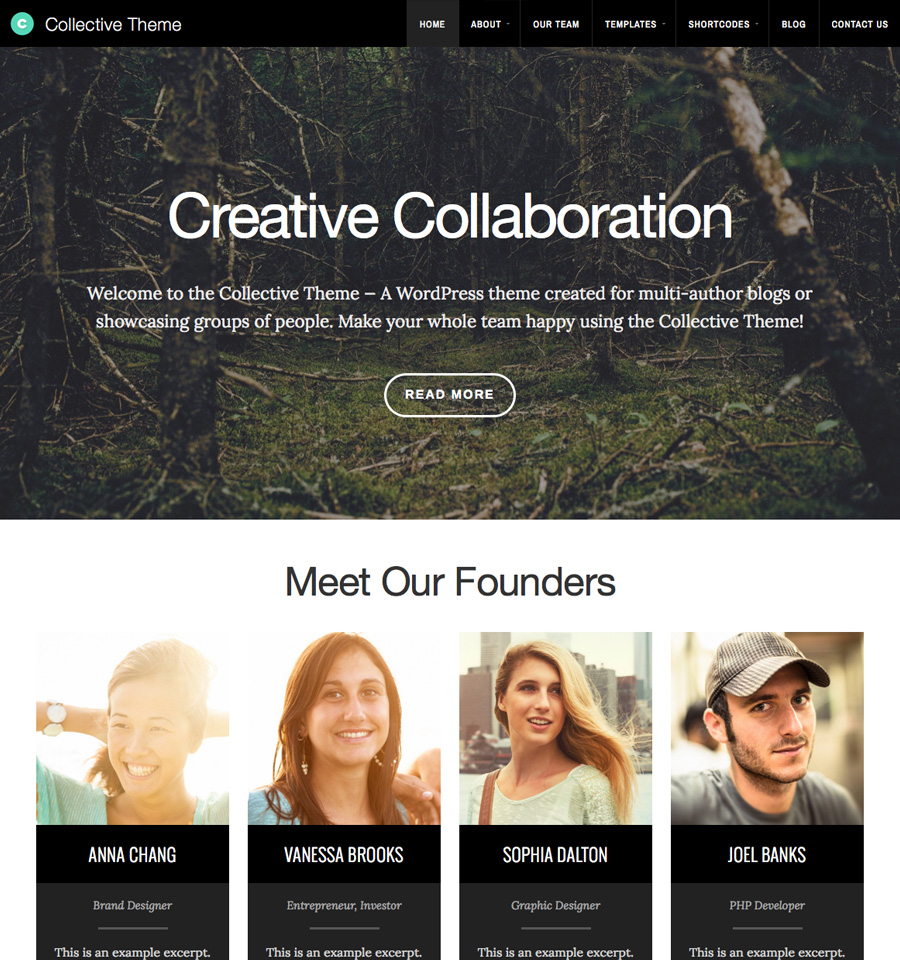 Divi
Divi is one of the best premium WordPress themes available currently, which is built on a strong foundation of powerful features that give you complete creative control over how you build your website.
Hover over the different elements in the sample layout below to reveal the building blocks that were use in the creation of the design.
Paradise Cove
A responsive WordPress hotel theme for anyone that needs a modern, "all inclusive" web presence.
Victoria
Victoria Theme is a modern theme with a classic two-columns, responsive layout.
With easy customization options, this theme is a great choice for villas, inns, B&Bs, holiday rentals, hotels, etc.
Berliner
A music theme for musicians, artists, nightclubs and everyone in the entertainment industry.
Spectral
Spectral echoes contemporary approaches to create an elegant frame, focusing on content without compromising on visual excellence. The style design is inspired by recent visual trends, blending subtle backgrounds and overlays.
Novelty
Novelty is a Premium Magazine WordPress Theme with bold, modern, responsive design and lots of great features to power your news or content sharing website.
One of the most attractive premium WordPress themes to create a good looking site.
Port
Port is a beautiful and stylish agency theme that features multiple parallax sections on the home page, and a sleek slide-out main navigation.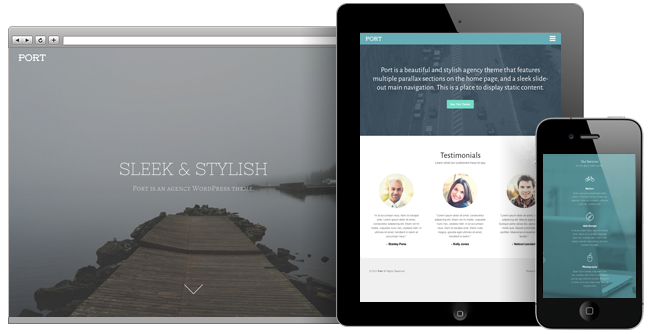 Vertex
Vertex is a stunning theme built for service providers that want to showcase their equally stunning products. The climb down from the Vertex is long, but as you descend you are met with beautifully animated content that is built for scrolling.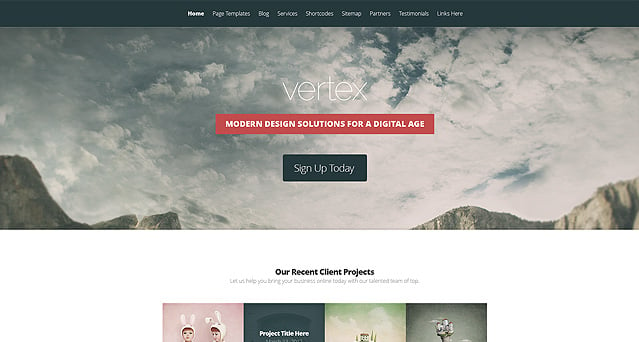 Novelti
Novelti is a Bold News Magazine WordPress Theme. Whether you want to give your blog a new cool and modern look or craving for awesome usability, look no further novelti is the theme for YOU.
Monospace
Monospace is a uniquely designed, multipurpose and multifunctional WordPress theme. Fully customizable, with unlimited color variations and a load of features you won't find anywhere else.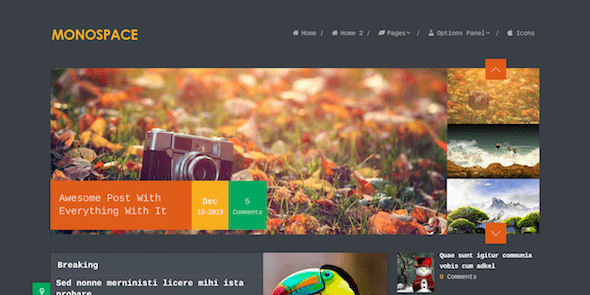 45 Top Premium WordPress Themes of 2014