Pinterest style WordPress themes are enjoying huge popularity these days, new Pinterest style WordPress themes are coming up frequently and becoming popular overnight.
The neat layout and beautiful display of Pinterest style WordPress themes are attracting huge number of new WordPress users, because it enables them to create a great looking site within minutes.
In this collection, we will showcase some of the best Pinterest style WordPress themes, including some Pinterest-style themes for eCommerce websites.
Updated: 22-08-2014
[symple_box style="boxinfo"]
List of Pinterest style WordPress themes
[/symple_box]
Pinboard
It features an auto stacking layout with infinite scroll as seen on the Pinterest desktop site. If you are unfamilar with the term "infinite scroll", it means that new posts are loaded automatically when you hit to the bottom of the page. One of the most popular Pinterest style WordPress themes.
Grido
Grido is a new Tumblr-like theme to join the responsive theme family (Tisa, Suco, Elemin, Funki, Minblr, Wumblr, and iTheme2). It is colorful, trendy, and stylish. The theme comes with 9 gradient backgrounds for you to style the post individually.
Postline
Postline is a responsive WordPress theme designed to capture different types of post formats like quotes, videos, images, galleries, and many more, allowing you to tell your story on any resolution, whether desktop or mobile device.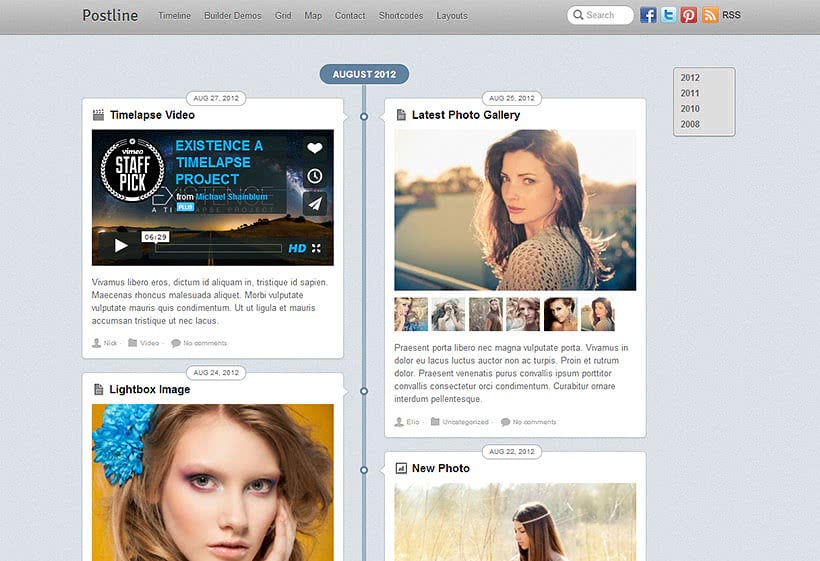 Pinable
Pinable is a Pinterest-like (or behance.net like) theme which supports various theme post types (Audio, Video, Gallery, Quote, Link, etc.), it's fully responsive (try resizing your browser) that works great on all kinds of devices, One of the most popular Pinterest style WordPress themes.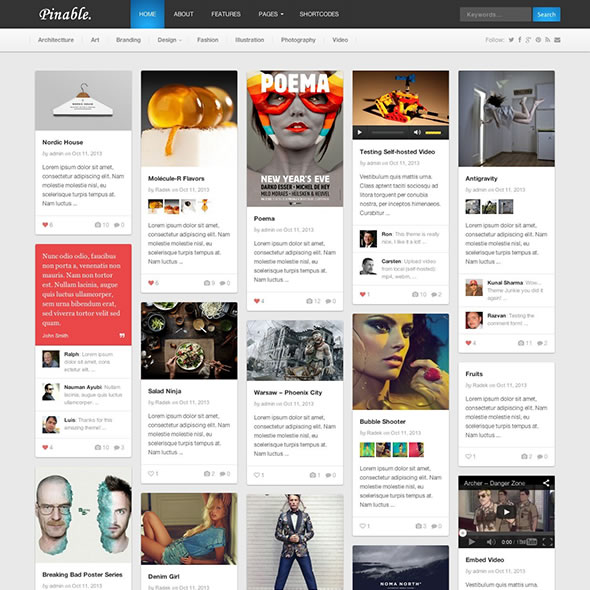 Pluto
Theme Pluto is a perfect theme for casual bloggers. It can be used for a cooking website, family blog, technology blog, personal blog or any other kind of blog which is simple to setup and use. Unique features like qr code scanner and reading mode will make your site to stand out.
Reveal
Reveal is a great looking easy to use portfolio theme featuring Flat & Metro inspired design with Masonry Layout powered by Isotope. This theme is fully responsive and it is created with Bootstrap.
Pintores
Share your online findings with the world Pinterest-style using the almighty Pintores. One of the best Pinterest style WordPress themes.
ExtraGrid
Every site owner wants to rank higher in search engines. Choosing a good SEO Optimized theme is also very important for your site to rank higher. If you want to it, ExtraGrid is a right choice for you.
This theme is built with SEO best practices, regarding Titles are place heading (h1, h2, h3,…) tags, important content is always placed before other one and Theme SEO panel.
Pinstagram
Pinstagram is a Pinterest-inspired WordPress theme that features the trademark grid layout with multiple post sizes and long list of posts.
Capture the magic of Pinterest and maximize your page views with a layout users are familiar with, with the MyThemeShop powerful functionality and optimizations.
Pinboard
Pinboard is a Pinterest-styled WordPress theme released by MyThemeShop that is 100% free. With a grid layout and lots of built-in features, Pinboard also has unlimited backgrounds and color schemes and is fully customizable.
Pinfinity
Ready to share your online findings with your visitors? With Pinfinity, our tumblr-like theme for WordPress you can do it à la Pinterest, one of the best Pinterest style WordPress themes
Pinshop
Pinshop is an ecommerce theme that is inspired by the Pinterest site and the popular Pinboard theme. The products load infinitely as you scroll down the page. one of the best Pinterest style WordPress themes for eCommerce site
InGRID
This responsive WordPress theme is perfectly suitable for both business and personal type of websites! one of the best Pinterest style WordPress themes
Brick + Mason
Brick + Mason is ideal for photographers and/or design studios. It utilizes infinite scrolling so users don't have to leave the page to experience all your talent. This theme also uses the jQuery masonry plugin so the content will fit any browser size.
Inspire
Inspire is a cutting-edge, masonry based, multi-purpose one of the best Pinterest style WordPress themes. With its clean design it is great for projects that emphasizes a stylistic and modern look.
Add the powerful grayscaling option for an instant artistic, noir feel and Inspire is sure to stand out in its own understated "less-is-more" kind of way.
TheWall
Fully responsive, modern and yet simple Blog/Portfolio theme made for those who like grid layouts. It's built around very popular Grid-A-Licious jQuery plugin! one of the best Pinterest style WordPress themes.
Bayside
Show off your work with this easy-to-customize and fully featured WordPress Theme. When purchasing this theme, you will receive a detailed help file along with additional features like Unlimited Color Schemes and an Infinite Scrolling Portfolio.
Ikebana
Ikebana is a premium WordPress portfolio theme created by Satori Studio. Our aim was to develop a minimal, clean, and aesthetically pleasing, yet stable, powerful, and highly customizable theme to use for agency websites, personal portfolios, photography or art showcases, as well as personal blogs and Pinterest-type collections.
Fabulous
Fabulous is a modern masonry photography blog theme with a classic style that is never out of fashion. Perfect for bloggers, photographer, designers, developers and more this theme puts the spotlight on your content.
Expressivo
A great looking fully responsive, retina ready WordPress theme. It is a SEO optimized fully customizable WordPress theme with some amazing features.
It offers you beautifully designed icons, Google fonts and number of other theme options t help you create an unique WordPress site.
Magtastico
Magtastico is a responsive masonry blog WordPress theme. With its clean and modern layout, unlimited color options and great design you're sure to fall head over heels for this theme.
Sight
Sight is a clean & fresh responsive WordPress theme for blogging and picture gallery. Responsive design, unlimited sidebars. For really best experience use last version of your browser. Supported browsers are Chrome, Safari, Firefox, Opera, IE8 + and more.
Fashionista
Stand out from the crowd with this responsive masonry blogging theme. Fashionista is perfect for fashion, photographers, models, celebrity gossip, or any other type of personal or professional blog.
Spaces
Spaces is a clean, minimal, fully responsive, grid-based personal blog one of the best Pinterest style WordPress themes, to write and collect your favorite things. The unique Pinterest style layout is perfect for showcasing your work, and collecting and writing about the things you like.
Remal
A great looking modern theme and one of the best Pinterest style WordPress themes, Remal is responsive and user friendly
Accord
Accord is a Responsive WordPress Blog Theme, best suited for Magazines and Personal Blogs. One of the best Pinterest style WordPress themes.
iPin Pro
The free iPin WordPress theme features the look and feel of Pinterest.com. The premium version adds on the social network functionality and many more features
25+ Pinterest style WordPress themes 2014