Theme Junkie, one of the established brand among the WordPress theme developers releases another amazing free WordPress theme called Delivery Lite.
A fully responsive, magazine style WordPress theme, Delivery Lite is one of the best available option for you, if you are looking for a free WordPress theme.
Delivery Lite is a minimalist, beautiful, modern and mobile-friendly a.k.a responsive magazine theme. It great for online magazines websites, news websites or personal blogs, because the minimalism it will give content-focused effect to your reader.

Theme Junkie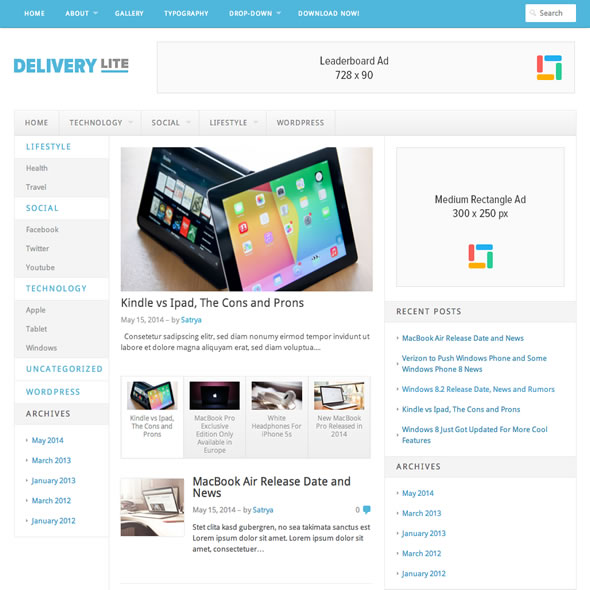 Though Delivery Lite is a free theme, it has all that you require to create a successful website on WordPress, a true premium quality free theme.
A minimal WordPress theme with crisp navigation and attractive set of features, be it ad management or showing of content, this theme provides you clear option for all you need.
[symple_box style="boxinfo"]Features of Delivery Lite theme[/symple_box]
Responsive Design – Delivery Lite comes with fully responsive design, it look amazing on all devices.
Ad management: The theme has clear position to place ads, so that you can make the best out of it.
Featured Posts Slider – Delivery Lite has a post slider features, it means you can display the most important articles on home page with slider view.
Built-in Pagination – No need to install wp-pagenavi plugin anymore, Delivery Lite has it's own pagination function.
Built-in Breadcrumbs – Breadcrumbs is important especially for SEO, Delivery Lite handles it for you without installing any 3rd party plugin. It will beautify your permalink structure on Google search result.
Custom Logo and Favicon – Delivery Lite provides a easy-to-use Logo and Favicon uploader to your site.
Support 4 Widget Areas – Delivery Lite has 4 widget areas to give you more flexibility to customize your site.
So, if you are looking for a premium quality free theme for your new site, this is the one you need. A quality free theme with all those features which you require to create a great site on WordPress