This is a collection of the best WordPress crowdfunding themes. Crowdfunding is a very popular fund raising method in the modern time, source money from the crowd.
If you want to create your own crowdfunding community website similar to the likes of Kickstater, Indiegogo we have some great options or you to create your site quickly with these great WordPress crowdfunding themes.
[symple_box style="boxinfo"]
List of WordPress crowdfunding themes
[/symple_box]
1. Franklin
Franklin is a WordPress crowdfunding theme, lovingly crafted from the ground up to be 100% responsive, elegant and bloat-free.
Franklin is a brand new homepage template with support for Layer Slider, a much requested campaign author widget and a hugely improved user profile page
2. Fundingpress
Fundingpress is a WordPress theme that allows you to create your own crowdfunding site. Users will be able to create projects that are brought to life through the direct support of others. A lot of thought and care went into the creation of this theme
3. Mission
Mission is a church theme offering everything that a church would ever need, from podcasting to calendars to commerce and funding, mission aims to provide an advanced one stop solution for your church.
4. Be Human
Be Human WordPress Retina theme is a web masterpiece which is designed for Charities. Theme is suitable for charities and nonprofit organizations & similar websites that need a feature rich yet beautiful presence online.
5. CrowdPress
Fully responsive theme that works on desktop, tablets and mobile phones perfectly. one of the best WordPress crowdfunding themes, one of the best WordPress crowdfunding themes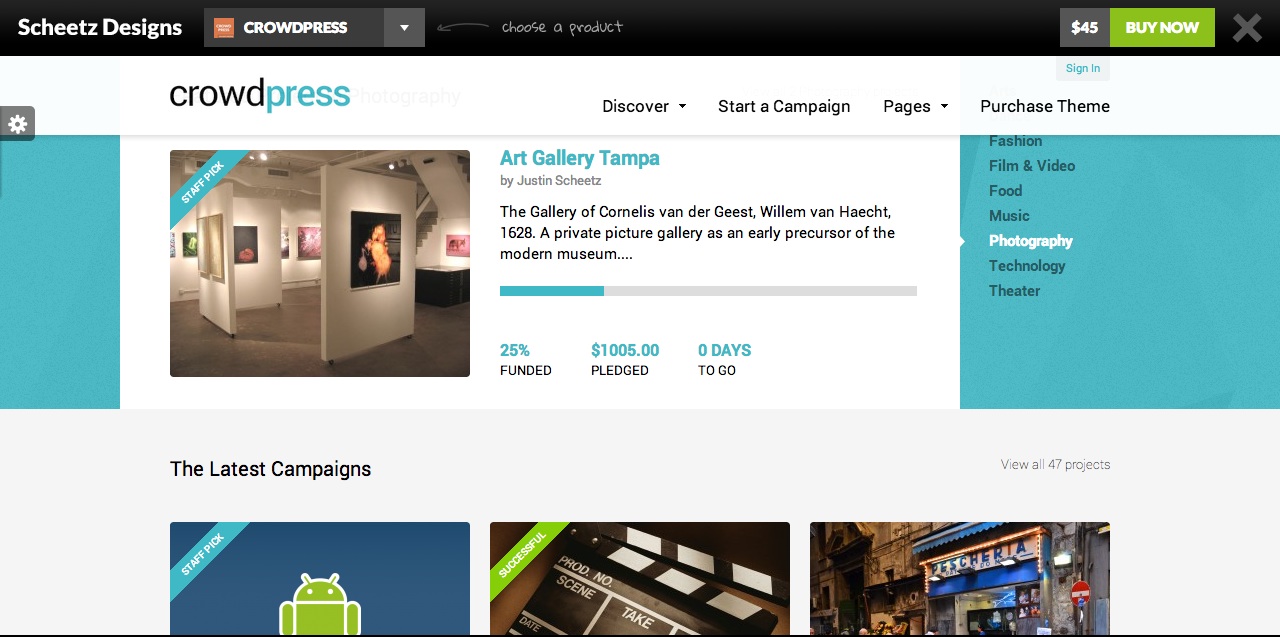 6. Funder
FUNDER is a Responsive WordPress Crowdfunding Themes that has been conceived with a proper balance between Ui & Ux enabling backers and project creator to participate in the crowdfunding process through a simplified process based on 4 steps.
7. Fundit
Fundit is a premium WordPress theme designed for music and musicians, non-profit organizations, artists, film makers, and others in need of a solution that focuses on raising funds for a single project, one of the best WordPress crowdfunding themes
8. GoodWork
GoodWork is the absolutely ultimate theme for your business! It is an elegant & modern solution packed up with an incredibly great amount of high quality features.
With support for great plugins such as Ignition Deck & WooCommerce it really stronger, allowing you to build an awesome portfolio, presentation site and crowdfunding website
9. GIG
Created specifically for musicians and bands, GIG is a custom solution to enable you to display pages for band members, your music, events, blog and even crowdfunding for your musical projects with support for the Ignition Deck premium plugin.
10. Campaignify
Creating a crowdfunding site has never been easier with Campaignify – the best theme for single campaign fundraising currently available. Imagine taking the very best of a Kickstarter campaign and leaving the frustrating parts behind.
11. Fundify
Fundify is the first and one of the best WordPress crowdfunding themes that lets you create your own crowdfunding website. If you have wanted a site like KickStarter or Indiegogo for your own projects, now you can have one using Fundify, the crowdfunding theme for WordPress.
10+ Superb WordPress Crowdfunding Themes