Solving problems and helping someone to get their issues resolved is probably the best way to create a good will, the online world is nothing different.
How to sites like eHow, Yahoo Answers, Quora, Stackoverflow are very popular as millions of people from across the word gets their answers on these sites.
If you want to create your own Question and Answers site in WordPress, check these amazing resources to create a Question and Answers site in WordPress in minutes.
[symple_box style="boxinfo"]
Create A Question and Answers site in WordPress
[/symple_box]
DW Question & Answer
DW Question & Answer is one of the best resource to create a Question and Answers site in WordPress in minutes. This plugin gives you all the options you may require to run your Question and Answers site successfully.
Features of DW Question & Answer plugin:
Submit Question
Order Question by Category, Tags
Add Answer to Question
Choose Best Answer for Question
Comment for Question / Answer
Vote Question / Answer
Customizable Notification Email regarding new Question / Answer and Comment
Quick Questions filter
Manages Question by status
Instant Search by keywords
WP-answers
Another very popular WordPress plugin to create a Question and Answers site in WordPress platform. This plugin comes with it's own responsive themes, however this plugin can be used with any theme you want to.
One of the most popular feature of this plugin is the integration with Yahoo Answers to auto fetch content for your site which is really great for a new site.
WP-answers also enable users to login with Facebook or Twitter and then spread your content virally by automatically posting to their profiles.
This is a premium plugin which comes for $89
Q&A
One of the most popular Question and Answers plugin with proven track record from wpmudev, this plugin enables you to bring full Questions and Answers functionality to any WordPress or BuddyPress site in mere minutes.
Features of Q&A Plugin:
Full front-end capability – users don't ever have to see your site's admin back-end
WYSIWYG editing of both questions and answers
Easy theme integration using widgets
Fully customizable using the included template files
Snazzy voting for both questions and answers
Integrated reputation points system
Dedicated user profile pages
CM Answers
CM Answers is a plugin for WordPress that enables users to post questions and answers (Q&A) in a Stackoverflow style. Plugin also includes social media registration using Facebook, LinkedIn or Google+ authentication.
Features of CM Answers

Includes a views count
Includes an answers count
Administrators can moderate question & answers and can receive email notifications.
Users can receive notifications when answering a question pending follow-up.
Sorting options in the question and answer pages.
Template can be easily customized according to users requirements.
We will be happy to add more language files and submit them to our WP community members. Currently we support: Spanish, German, Polish, Russian, French and Czech.
AnsPress – Question & answer system
A new and promising WordPress Question and Answers plugin for WordPress. AnsPress is currently under development however you can still use it to create a AnsPress Question and Answers site on WordPress.
SabaiDiscuss
SabaiDiscuss is a premium questions and answers plugin for WordPress. The plugin features the ability for users to ask and answer questions similar to Stack Overflow or Yahoo Answers.
SabaiDiscuss is an ideal tool not only for building a community driven question-and-answer website but also for building a discussion forum, a knowledge base, or even a helpdesk portal for WordPress.
Features of SabaiDiscuss
Discussion Stream
Access Control
Theme Friendly
Voting Engine
Report Abuse System
Easy Moderation
Profile Pages
Reputation Engine
Cloneable
Featured Posts
Bookmarking
Social Sharing Tool
Widgets
Answers Theme
Answers Theme will turn your WordPress install into full featured Question Answer portal in minutes.You can easily install this WordPress theme with just one click.
Answers is one of the most complete question answer WordPress themes available today. It allows you to create a fully functional Q&A portal that is user driven and content oriented.
Features of Answers Theme
Ask a Question
Vote on answers
Custom register form
Translate Answers
Custom widgets
Charge for submissions
Choose the best answer
Customize using widgets
User dashboard
AskIt WordPress Theme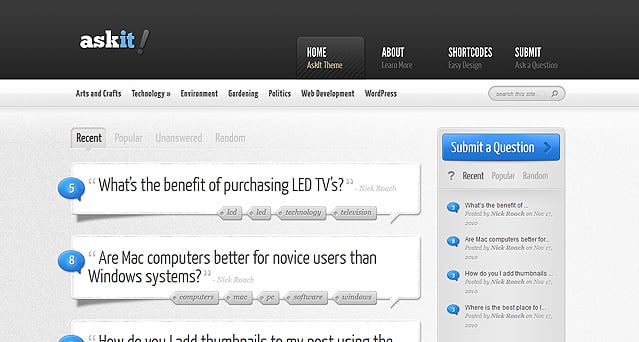 AskIt theme effectively transforms your blog into a fully functional question and answer site. AskIt allows your visitors to post their questions and have them answered by fellow members.
Any visitor can post answers to these questions which are then voted on by the community until a "correct" answer is chosen by the question author.
Instant Q&A
One of the best WordPress Questions and Answers theme. This theme instantly converts your WordPress site into a good looking answers portal.
Key Features of Instant Q&A:
Turnkey Question & Answer website solution
Custom User Log In
Custom Sign Up with user generated passwords
Custom Forgot Password option
Ability for member to change their password
Member Profile Pages
My Account Page
Edit Profile Page with Custom About Me text
NEW – Tags for questions and tag archive pages.
6 Custom User Avatars to choose from
Gravatar Integration
Custom Ask a Question Form for Posting Questions
Unique Answer pages for Answering Questions
Popular Questions Section – Top Answered Questions in the Last 30 Days
Star Rating System – Members Earn points for Asking and Answering Questions
Robust Q&A
Robust WordPress Questions and Answers theme with large feature set to suit your needs. This theme takes the q&a concept to the next level. Easy to setup and get going in minuets. Custom Translations for people looking to use other Languages.
Q-and-A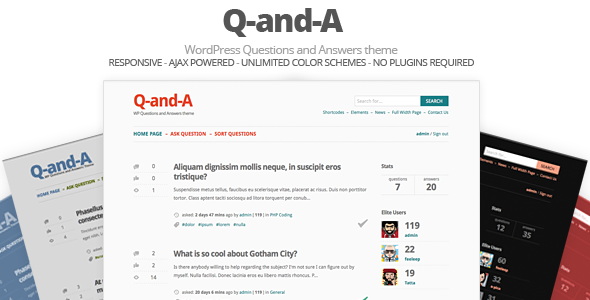 Q-and-A is a simple and powerful question-and-answers-like WordPress theme. It doesn't really matter whether you are about to run specific niche Q-and-A site or a simple questions and answers site relating to the product you sell, I'm sure you gonna find this theme extremely useful.
Resources to Create A Question and Answers site in WordPress