With the increase in popularity of WordPress CMS the number of websites powered by WordPress are also increasing. Now a days most of the bloggers or online marketers manages more than just one website which runs on WordPress.
As the number of website under your supervision increases the management of all those sites becomes a real issue, logging in and out of numerous websites, clicking each and every update button, managing plugins, themes becomes really time consuming.
Introduction to CMS Commander
Services like CMS Commander comes to your rescue and take the pain to manage all your sites on your behalf. CMS Commander combines all your websites at one place and gives you the option to manage all your sites effectively.
CMS Commander enables you to post, update, add and remove plugins, install and update themes and more via one dashboard and more than 20k websites are already on board.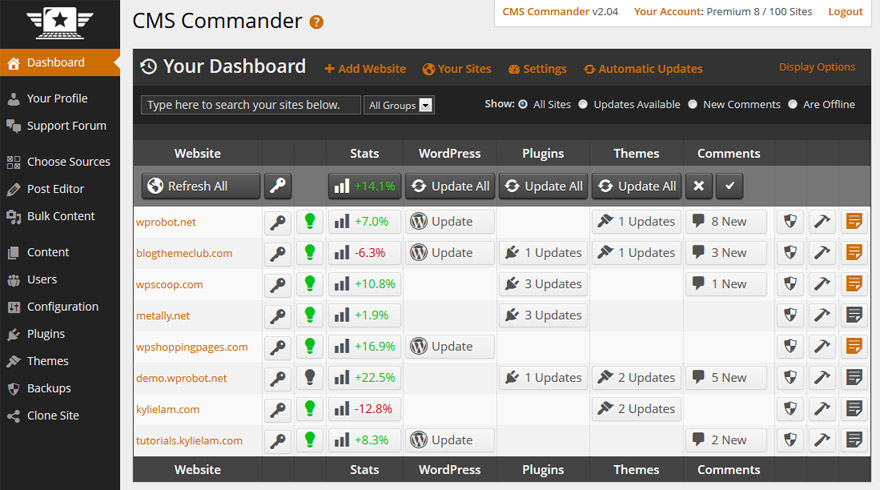 CMS Commander can do lot more than just updating your WordPress themes and plugins or giving you single dashboard, let's take a look at what can your expect from CMS Commander.
WordPress Update from Single Dashboard
As already mentioned CMS Commander gives you the option to update WordPress themes and plugins for all your WP sites from one dashboard.
1-Click theme and plugin update features can save a lot of your time, you get the update intimation on CMS Commander dashboard and you can update it for all your site in just 1 click.
Also, you can install themes and plugins to any number of sites simultaneously in just a few clicks.
Security
CMS Commander gives a lot of importance to security of your WordPress site. They have implemented Secure SSL Connection to the communication between your sites and CMS Commander.
CMS Commander secures your account with our 2-Factor authentication features provided by the popular Google Authenticator app.
Automatic WordPress Backups
Imagine a situation where you lose all your data because of some kind of attack or any technical issue and you forgot to take backup prior to that event, a lot of your hard work can vanish just in a minute.
CMS Commander gives you the peace of mind with their automatic backup system. You can automate bulk create backups of all your WP websites at the same time.
Set daily, weekly or monthly backup tasks and save the results to up to six different destinations, including your Dropbox, Google Drive and Amazon S3 accounts.

Copy WordPress Settings
Sometimes you need to do similar kind of settings in all your WordPress sites, however it is time consuming. CMS Commander gives you option to copy your configuration from one site to all the others sites effectively.
Maintenance Mode
This feature could be really important at times, you are working on a new design of your site and you don't want to world to see the half done modifications, so put you site in maintenance mode and display a custom offline message to your visitors.
Website Cloning
You have created a successful site now you want to clone the site, CMS Commander can copy your site and gift you a new site in less than a minute!
[symple_box style="boxinfo"]Autoblogging With CMS Commander
[/symple_box]
Other than just managing your WordPress site, CMS Commander can work for you as a complete autoblogging platform.
CMS Commander support more than twenty diverse sources providing you with related images, videos, articles, affiliate products and more from big names like Yahoo, Google, Youtube and Amazon and more. All sources use an official and legal API.
You can also bulk update blog posts from your CMS Commander dashboard and insert images videos into your WordPress posts in just a few clicks.
Bulk Content Posting:  The bulk content features of CMS Commander offer you powerful tools to do so and allow you to combine diverse content from many sources, rewrite it automatically and schedule it on your websites.
Monetization of Your Website
CMS Commander takes care of the Monetization part of your WordPress site as well with affiliate ads and links provided by 9 big content providers, all of which will earn you commissions.
[symple_box style="boxinfo"]
How to Use CMS Commander
[/symple_box]
It is really easy for even a complete newbie to use CMS Commander's services, if you still find any difficulty their awesome documentation and video tutorials will do the job for you.
All your WordPress sites connect to CMS Commander with the help of a plugin called CMS Commander Client. You need to install this plugin on all your sites which you want to manage through CMS Commander dashboard.
The process to follow
First you need to sign up for a free account here.
Go to your WordPress site dashboard and install and activate CMS commander plugin.
Inside CMS Commander Dashboard, Click on Add new website and add details of your site.
Conclusion
A very effective service, CMS Commander gives you so many important options to manage and grow your site which is remarkable.
If your site is managed by CMS Commander all you need to worry about is creating some great content. If you don't want to write content as well CMS Commander's autoblogging service will do that for you.
CMS Commander Review: Effective WordPress Management Service