One of the most popular way to earn online revenue is by creating a membership site. If your present site is already getting lot of traffic, channelize it to offer product or services by creating a membership site.
Creating a membership site on WordPress is real easy as there are number of great quality WordPress membership plugins already available to do the job for you.
In this post we have collected the best WordPress membership plugins from the available lot. So, grab any of these plugin and start your membership site today.
[symple_box style="boxinfo"]
List of WordPress Membership Plugins
[/symple_box]
S2Member
One of the most popular WordPress membership plugins, The s2Member Framework (free) integrates with PayPal Website Payments Standard (also free), and fully supports recurring billing. s2Member supports custom Pages for registration (including Custom Registration/Profile Fields).
The s2Member Pro offers you greater flexibility to run your membership site. The pro plugin comes with tons of options to make a great membership site.
Membership
Another superb WordPress membership plugins, which can easily turn your WordPress site into a fully functional membership site.
Provide access to downloads, online content, videos, forums, support and more through flexible membership levels and options
UserPro (Premium)
This is a premium membership plugins, UserPro is a full featured user profile and community plugin for WordPress. It offers beautiful front-end profiles, login and registration for WordPress.
UserPro is packed with so many features and control, It is more than just a user profiles plugin, with UserPro you can build your own community of searchable members directory, and give each user a customized, elegant profile – plus frontend, customized registration and login to your website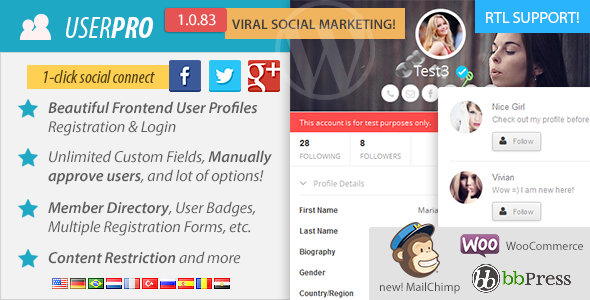 WishList Member (Premium)
A custom made and one of the most popular WordPress membership plugins, WishList Member can tun your site into a full-blown membership site.
This plugins comes with number of features required to create a premium membership site.
WP-Members
WP-Members is a plugin to make your WordPress blog a membership driven site. Perfect for newsletters, premium content sites, and more! The plugin restricts selected WordPress content to be viewable by registered site members.
Magic Members (Premium)
Another super WordPress membership plugin, Magic Members give you tons of options to make your membership site unique and premium.
As the name suggests, this plugin is custom made to create a membership site, Magic Members is user-friendly and intuitive, you don't need even one code to use it
With this plugin you can set different levels of membership, you are also able to set different membership billing options with an unlimited amount of subscriptions.
Paid Memberships Pro
With this plugin you can set up unlimited membership levels and provide restricted access to pages, posts, categories, videos, forums, downloads, support.
Paid Memberships Pro is flexible enough to fit the needs of almost all online and offline businesses.
7 Amazing WordPress Membership Plugins