Themify has recently launched a free WordPress plugin called conditional menus which will enable you to change your menu in every post pages, categories, archive pages as per your wish.
Conditional Menus will work with any WordPress theme which uses the standard WordPress menu function. This plugin will add function to set conditions while creating your menus.
Generally this plugin will be useful for multi niche sites because it is really helpful for the users if they can find the menu related to the topic of their interest easily.
How To Use Conditional Menus?
Conditional menus plugin is simple to use. Once you install & activate the plugin it will add conditional menus on the Manage Locations tab located in your WP Admin > Appearance > Menus page.
To add conditional menu: click "Conditional Menu" and select a menu from the list (you can create these menus in the "Edit Menus" tab)

You can remove the menu by selecting "Disable Menu" from the list.

Click on "Conditions" to add conditions in the modal box (tick the check boxes where you want the menu to appear)
Click on the "X" button to remove the conditional menus.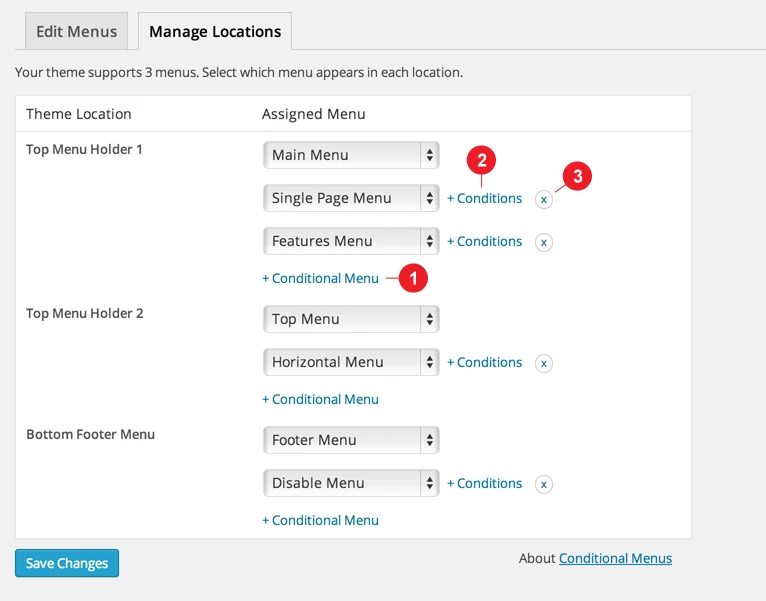 If Menu Plugin
If Menu is another superb plugin which help you to achieve this functionality to add conditional menus in your WordPress site.
Once you activate this plugin, you will be able to enable conditional statements for your Menu Items in Appearance -> Menus page.
The plugin will allow to show or hide menu items based on condition statements (Is single page, User is Logged In, etc)
Change Menu in Every Post/Page With Conditional Menus