Travel business is always a quick way to earn some handsome amount, be it online or offline travel business is the way to go. If you want to start your online travel portal, there are some amazing travel WordPress themes to create your travel key quickly.
Travel websites require some specific elements like Google map, listing option, gallery option etc, travel WordPress themes fulfills these requirements quite effectively.
Also Read
In this collection we have selected some of the best travel WordPress themes to which are well crafted for travel blogs, travel guides, travel agencies, tour bookings and more.

Magellan is a great looking Travel WordPress Theme from Tesla Themes with modern, bold, sharp design and many custom options and elements specially designed for this industry.

The theme is packed with amazing features, custom posts for tour pages (including reviews, gallery, location, weather, etc.), beautiful animation and transition effects, custom posts and shortcodes, social media integration, Google maps, WPML compatibility and much more.



]Love Travel[/divider]


Love Travel is a fully responsive WordPress Theme. The theme has been designed for travel agency, tour operator, travel blog, but thanks to his creative graphics, simple, modern, flat and clean well suited to any business




Cousteau is a great looking fully responsive travel WordPress theme designed by cssigniter. The theme is packed with travel related features and options such as itineraries, pricing, categorization, maps, videos all from the WordPress admin.

The theme allow your customers to book on the go easy easy to use options. Cousteau theme comes with a powerful custom made filtering system that makes finding your offerings a breeze




Socha Responsive WordPress Theme – is a photography theme, for people who likes to travel arownd the world and put all inspiration photos on personal WebSite.




A beautiful WordPress theme suitable for bed and breakfast, small hotels or accommodations. The main feature is that it is on a single page with simple and very easy to use.




Book Your Travel – Online Booking WordPress Theme is one of the best responsive travel WordPress Themes ideal for booking portals, travel agencies, hotels, bed and breakfasts, guest houses, villas, etc. or travel blogs, but it would suit for any business with slight customizations.




Soho Hotel is a WordPress theme designed for Hotels, Hostels, Service Apartments and any other kind of accommodation which requires a booking system.




Viva Hotel is a powerful, feature-rich hotel and travel WordPress themes that lets you customize a wide variety of features from the comfort of your Dashboard




Show off your work with this easy-to-customize and fully featured WordPress Theme. When purchasing this theme, you will receive a detailed help file along with additional features like unlimited color schemes and a fully responsive layout.



]Passenger[/divider]


Passenger is a great looking WordPress theme which is custom made for travelers. It is modern, clean and responsive WordPress theme with some cool features every traveler needs.




Tour Package is one of the best travel WordPress themes. It comes with package post type which allow you to feature all packages for your customers to easily browse on




Grand hotel is a WordPress theme designed for hotel, resort and hostel websites. This theme also suitable for business and portfolio websites.




Explorable is a location-based theme that pins your posts on a map. Listings become part of a journey, and exploring your website has never been so fun.

With the ability to create location-based listings, the theme becomes a great tool for building travel blogs, local business directories, travel guides and more.




Build on a clean design, and in a good thought functionality Travelo can be your best choice if you have a Travel Company but you don't have an online payment service available, one of the best travel WordPress themes.




Tour Operator theme is an absolutely unique theme concept. You can use the theme to set up powerful website for tour operator agency, hotel resorts, guesthouses, B&Bs, campsites or any other businesses that require reservations, most definitely one of the best travel WordPress themes.




Voyage is a versatile WordPress theme that can be used for a wide variety of websites, like a travel agency, portfolio, small business, etc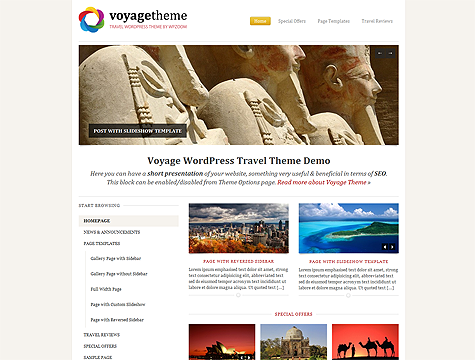 The Vacation Rental is one of the best travel WordPress themes which is perfect theme for anyone renting out an apartment or house. It has a special apartment filter page with side or top filter.

The apartment page has a special booking form with integrated availability calendar, full customizable list of details and an agent contact form.



Travel Fullscreen Responsive


Travel is a definitely fantastic and unique responsible and fullscreen theme designed for photography presentation, you could use it for your portfolios, travel logs or any other purpose if you have many beautiful pictures to share with others.




From top to bottom, the design for the Journey theme began with a focus solely on travel. We weren't going to give you just a standard blog with a pretty scenic picture and call it a travel theme, one of the best travel WordPress themes.




This directory-based theme utilizes Google maps to display exact locations and provide users the ability to interact with the location. The Navigator is ideal for travel blogs and/or location guides, but could also function as a real estate listings directory or store locator.



]WP World Traveler[/divider]


WP WorldTraveler is a clean and fresh feature rich theme with subtle watercolor brush touches designed for WordPress installations, it allows you to create a dynamic content managed site for use as a travel blogging site and more.




Travella is one of the best travel WordPress themes which helps bloggers build a travel and event blog quickly and with ease. You can use Travella to develop a personal blog, share trips, photos, events, and more.

With all the features that we suited it up with, Travella will not only be an option for all kinds of travelers, backpackers, or soon-to-be travelers or backpackers




Travelous is a great looking, one of the best travel WordPress themes which help bloggers build a travel blog quickly and with ease. You can use Travelous to develop a personal blog, share trips, photos, reviews, and more.




One of the best and custom designed travel WordPress themes created for Tour Operator Businesses or Charter Services
Traveller[divider]
Traveller is one of the best travel WordPress themes for Travel bloggers & travel websites. Every element of this theme is well crafted and makes your site look professional website and you get maximum exposure to your content. Traveller can be also used for lifestyle or General blogging website.

[button color="green" size="big" rel="nofollow" openin="samewindow"
url="http://magazine3.com/members/aff/go?r=7622&i=27"]Download[/button]



[divider]Midway


Midway is a perfect theme for any travel business. It is really easy to use and customize, comes packed with powerful tools for managing, searching and booking tours, changing styles and more.
25+ Best Travel WordPress Themes 2014